[BIG EVENTS AHEAD] February & March at Creative Haven YXE
Hello and happy February Crafters & Creatives!

As always, we're elbows deep in glitter, glue, paper and paint in the DIY studio as we create some fun projects and plan exciting new workshops for February and March. Take a glimpse of what's ahead because we have some old favourites and some totally brand new ones too!

A glimpse of what you will see in our newsletter:
- What's New

- Upcoming Workshops
- Kids Open Studio
- Weekend Midnight Crop
- Crafters Garage Sale

- Creative Coaching

- Membership Rewards


Exciting news about booking events with us!

This NEW handy Scheduling App is placed throughout our website and allows you to pick a date and time for booking a DIY Drop-in, a birthday party, a creative coaching session or private event.

Give it a try!

Kids Crafts Open Studio
Looking for something fun and creative to do with the kids this winter break? We have the solution for you, Creative Haven YXE is hosting another kids open studio. Children will choose from several projects that will let their creativity flow. From painting to wand making we have a project for everyone. Come enjoy some creative fun while keeping your house clean.

Parents are encouraged to stay with their children during this open studio, but don't worry we have several projects for grown ups as well. Work on your own project or work with your children to create a beautiful collaborative masterpiece.
2 sessions available. Choose the one that works best for you. If you can't make it to the scheduled sessions, please reach out to Becky to book another time that works for you. 306.880.4888
Tuesday, February 18th - 11am-1pm / $25 / REGISTER FOR THIS SESSION HERE: BOOK NOW February 18th
OR
Wednesday, February 19th - 11am-1pm / $25 / REGISTER FOR THIS SESSION HERE: BOOK NOW February 19th




Paint Pour - February 20th
Have you been interested in the latest internet trend, Paint Pour? Now is your chance to learn all about the techniques and tricks to create a fantastic masterpiece of your own. Join us for an evening of paint pouring, learning and creative expression.
In this 1.5 hour class you will create a 8x10 paint pour canvas. Each creation will be unique and customized to your tastes. Choose the colours you want and then watch the magic happen.
No painting experience necessary / Materials will be provided.
REGISTER HERE: Paint Pour / February 20th


3D Felted Creatures
Needle felting doesn't need to be 2D! Create your very own creature out of wool in this 3+ hour workshop.
We will learn how to form your base structure, how to sculpt out features, add pieces like legs, wings, arms, and fur. The adventurous can have a stab at creating jointed creatures!
Come with an idea in mind (please let Becky know when registering, so we can be sure to have the right colours on hand!) or choose from Penguin, Whale, Turtle, or Fish.


About Kara:
Kara is a Fibre Artist and Master Spinner, living in Saskatoon. Her fibre arts journey started in 2008 when she stumbled upon hand spinning yarn, felting and dyeing on the internet. From then on she fell hard and fast down the rabbit hole that is the soft and warm world of fibre arts. She has taught felting, dyeing and spinning to a wide variety of audiences at a wide range of skill levels. She has had work published in the international publication PLY Magazine, and has self published a book on hand spinning yarn.
Learn to Crochet 'Basics and Beyond'
Level One Crochet
We are getting set to launch our Learn to Crochet workshops again. This class has sold out for the past 4 sessions. Sign up early to ensure your spot.

Learn to Crochet 'Basics and Beyond' is a 6 week course.
Held every Wednesday night from 6:00pm to 7:30pm.
Beginning March 4th to April 8th
This is a beginner class. No experience necessary.
All supplies are included.
REGISTER HERE: BASICS & BEYOND





2-Day Midnight Open Studio Event
Come join us for our 2-day midnight open studio event. Bring your projects and craft the day and night away. Meet some new friends and have a creative, inspiring and most of all FUN weekend.

Snacks and non-alcoholic beverages will be provided. Please feel free to bring your own nut-free meals and snacks.
Book now as seats fill up fast. We can't wait to create with you!
$20.00 with a $5.00 in store credit Non-Members
$15.00 with a $5.00 in store credit for Members
If you are a Creative Haven YXE Rewards Member, please make note during your registration and you will be given your member rate.
REGISTER HERE: MIDNIGHT CROP




BACK BY POPULAR DEMAND...Indoor Garage Sale For Crafters!

March 26th, 27th, 28th~


The last craft supply Garage Sale that we hosted was a huge hit with sellers and shoppers alike, so as promised... we're getting ready to do it again!




We're hosting an in-store crafting GARAGE SALE and vendor tables are officially AVAILABLE NOW!
Anyone is welcome to book their own FREE table to sell their gently used or leftover crafting supplies during our 3-day event.
We have space in the store for 12 Garage Sale tables AND the best part? You don't have to sit here and watch your table or items! You will be given a code to place on all your items and that code will track your sales for you (and us)!
You can pick up your unsold items after the sale ends or choose to donate them Creative Haven YXE so that we can make grab bags that will raise money for our children's charity of our choice (The Ronald McDonald House of Saskatoon).
For every dollar of product you sell, we will convert it DOLLAR FOR DOLLAR and issue your payment back in a Creative Haven Gift Card.
Table bookings will be reserved on a first come, first serve basis and require a $20 refundable deposit.
To book your table, please call Becky at 306.880.4888 or visit the store (96 33rd Street East, Saskatoon SK)
Creative Coaching!
Making an album and feeling overwhelmed?
Want to learn a new technique?
Having a creative block?
Starting a new project and wanting some guidance and advice? Becky can help!
You have asked for it and Becky has delivered.
Creative Haven YXE is now offering
One-on-one Creative Coaching sessions with Becky.
Have a great idea for a project but no idea how to start?
Becky can help. Book a one-on-one creative coaching session with Becky and she will help you turn that fabulous idea into a fabulous finished project.
Missed one of our amazing class? Schedule a make-up class.
Call now to reserve your one-on-one Creative Coaching Session Now!
Prices starting at $25.00 based on project






Thursday Tips & Tricks

Tune in on our Social Media platforms every Thursday to learn about a new tip or trick from the studio~!
Do you have a tip to share? Post on our social media or send us message!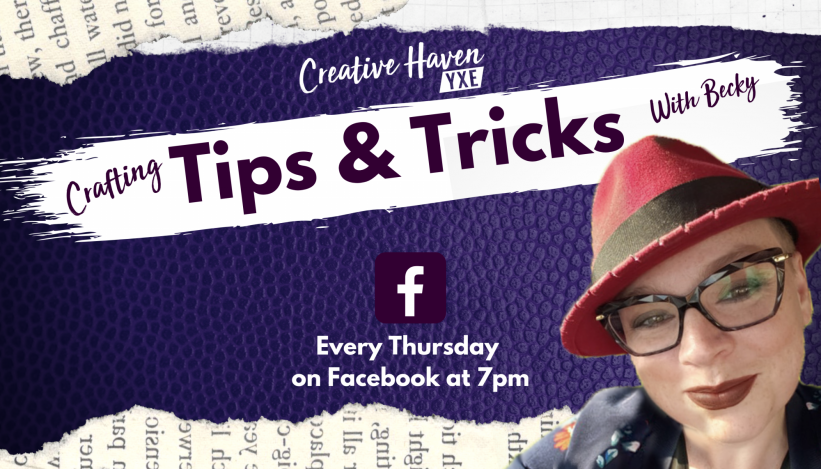 Are You Earning Creative Haven YXE Member Rewards Yet?

Joining our membership program has so many rewards to offer and we are always working hard to offer new and exciting benefits for our members.


Our members enjoy:
10% off your next purchase during your birthday month
10% off your entire purchase during open studio events
15% off you retail purchase during any workshop you are attending
Member rewards program - Receive a $10.00 in store credit for every $250.00
Receive unlimited support, guidance, advice and encouragement from Becky and the Creative Haven YXE Team
Memberships are currently available for purchase by phone or in-store!
Membership fee: $40 annually.




As always, Thank you so much for the support and for being here to read our little newsletter! I hope to see you soon :)

If you have any questions about products, classes, birthday party bookings or hosting a private event/fundraiser, please don't hesitate to call!

In Creativity,
Becky :)
Creative Haven YXE - Where You Belong
306.880.4888
96 33rd Street East, Saskatoon SK




Find us on Facebook
Find us on Instagram