[Don't Miss Out! ] We're just days away from our next 2 BIG EVENTS !
Creative Haven YXE is pleased to announce that we will be donating crafting supplies and that Becky will be lending her creative coaching services to Ronald McDonald House Charities Saskatchewan.

Join us for our Fundraising DIY event THIS Saturday!




About Ronald McDonald House Charities Saskatchewan
"...Whether we know it or not, most of us at some time have had a friend, acquaintance or family member stay at a Ronald McDonald House, whether it be at Ronald McDonald House Charities Saskatchewan or elsewhere in Canada. The staff members and numerous volunteers at Ronald McDonald House are dedicated to providing a warm and inviting atmosphere for those families who are unfortunately living through a stressful period where their child is under medical care. Ronald McDonald House is a space where families who are experiencing similar stressful situations can bond, share a meal, exchange stories and, with the help of our staff and volunteers, support each other in their time of need. Having a "home away from home" plays an important part in easing the stress families feel during this time…" - Jim Flath, Chair RMCH (www.rmh.sk.ca)
Crafting & Cropping for a local cause


Through our upcoming fundraising event on July 27th, 2019, you can help us to provide brand new craft supplies for kids of all ages in RMHC craft space.
On July 27th, 2019 Becky will be shaving her head in the DIY studio at 4pm for the cause. How can you contribute? From 10am-5pm, all proceeds of your DIY studio projects will be donated to provide brand new supplies for the RMHC craft room. Pop into to the studio to make any one of our DIY projects (various prices) and all proceeds will be donated! Also, We have a $5 donation link set-up on our website (you can donate as much or as many times as you would like).


Kids Helping Kids


(Pictured: Sean visiting the RMHC)

Bring the kids into our studio on July 27th to make their own crafts for the cause. Every dollar of proceeds collected that day will help a child have access to crafting and new supplies at the Ronald McDonald House Charity.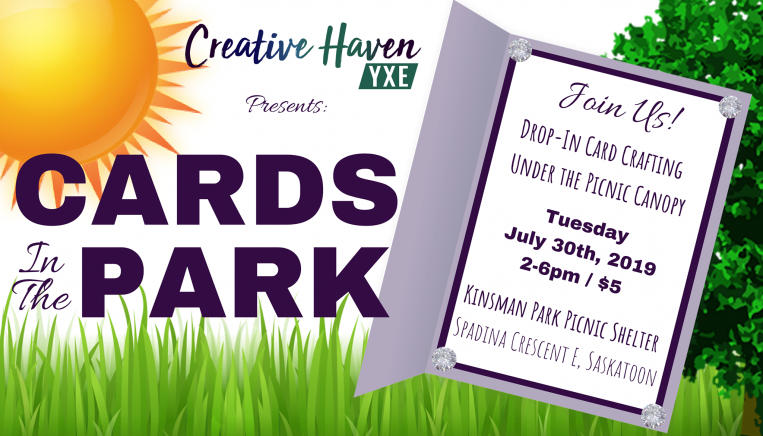 Join us Tuesday, July 30th (2-6pm) for our first-ever Cards in the Park day!

We're moving our Tuesday Card of the Week outdoors and bringing along all of the supplies and tools for an afternoon of card-making under the picnic Canopy at Kinsmen Park!

There will be at least 10 really cute card layouts to choose from with multiple mix and match options! This event is open to all ages and everyone is welcome.

Registration is not required, but feel free to let us know if we can expect to see you! The more the merrier.

$5 for 1 card
$12.50 for 3 cards
$20 for 5 cards

Instructor & Host:
Becky Scharfstein-McGettigan
Guest Host: Kalynn Martin

Location: Kinsman Park Picnic Shelter / Spadina Crescent E, Saskatoon
What to bring: Nothing but a snack or refreshment if you like! We have all the crafting supplies for the day!




Below is just a small sampling of some of the Card layouts that will be available for Cards in the Park!




Have questions? Please call Becky at: 306.880.4888






Creative Haven YXE is offering
Summer Craft Workshops for kiddos.

These workshops are open to children 5 years and up. All skill levels and ages welcome. We have something for everyone. Workshops are 2.5 hours and include craft activity and snack.
Sessions include: painting, paper crafting, journal decorating, card making, slime, face painting and so much more. We will be doing a different activity each day. Sign up for any or all of our 6 sessions.
Date offered:
August 6th, 7th, 8th
Two times per day 10am to 12:30pm or 2pm to 4:30pm
$43.00 per workshop or $109.00 for all 3
Please contact Creative Haven YXE for more details: 306.880.4888

Register Here: https://www.creativehavenyxe.ca/creativehavenyxe/classes.htm?categoryId=788896170
As always,
Thank you for your continued support of Creative Haven YXE!
In Creativity,
Becky