Our New Year Newsletter
Hello and Happy New Year. We hope your holiday season was fantastic!



We're jumping into 2019 feet first, excited and hitting the ground running. We have tons of new classes and events to share and can't wait to create with you.




A glimpse of what you will see in our newsletter:



Our New Year Sale


New Products




What's Happening




Classes / Events




Social Media / DIY Contest




New Membership Rewards






All of our seasonal and holiday products are now on SALE and will be while supplies last.



Art Daily Journals
By Finnabair
Come visit us in-store to see all of the really cool items that can go along with your Art Daily Journal.



Click HERE to learn More about Art DAILY Journals




Creative Haven YXE goes to Creativation 2019!
Creativation is the place where creative businesses g​o to learn, connect and discover. It's North America's largest and longest running creative industries trade event.
Our team will be attending 13 different workshops to get inspiration and projects to bring back to Saskatoon share with you!
Some of the workshops include;
Tantalizing Texture & Colour with Tracy Scott sponsored by PaperArtsy and Ranger Ink.
Whimsical All Occasion Cards with Lawn Fawn
Vintage Memories Canvas with John Creighton Petersen sponsored by Imagine and Tsukineko
Chibitronics 101 with Jessica Frost Ballas
And so much more!

Creativation is also a purchasing show, so we will want to hear from you about what products we should buy and bring back to Creative Haven YXE! :) Make sure to stay tuned to our Facebook page while we are at Creativation, because that's when we will be LIVE from Phoenix Arizona to ask for your input :)

* Please note that the store will be closed while the team attends the tradeshow. See details on our January Calendar.
Every Tuesday (all day long) we feature a brand new greeting card style in the DIY Drop-in Studio.
For only $5 you can pop in any time to make a card of your very own. It includes all materials and instruction.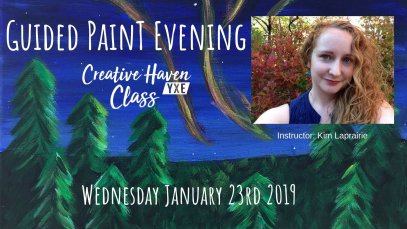 More Information/Tickets: Guided Paint Evening Class

More Information / Tickets Graphic 45 Club Class

More Information / Tickets: Intro to Scrapbooking

More Information / Tickets: Paint Pour Class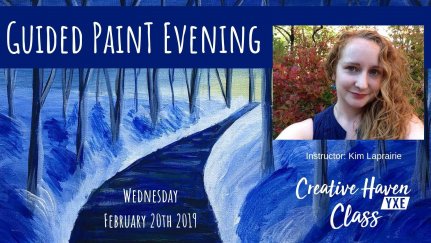 More Information / Tickets: Guided Paint Evening Class
CONTEST time!


We are looking for YOUR favourite ideas to add to our DIY Drop-In Studio line-up for 2019.

Post a link or picture of one of your favourite DIY crafting projects on the PINTASTIC post on our Facebook page, and if we choose yours, you will win $20 towards a drop-in session!


Happy posting
:)



Joining our membership program has so many rewards to offer and we are always working hard to offer new and exciting benefits for our members.
New for 2019 our members will enjoy;
10% off your next purchase during your birthday month
10% off your entire purchase during open studio events
15% off you retail purchase during any workshop you are attending
Member rewards program - Receive a $10.00 in store credit for every $250.00
Open Studio times are free for members to attend ($5.00 for non-members)
Receive unlimited support, guidance, advice and encouragement from Becky and the Creative Haven YXE Team
Memberships are currently available for purchase by phone or in-store!
Membership fee: $40 annually.



As always, Thank you so much for the support and for being here to read our little newsletter! I hope to see you soon :)

If you have any questions about products, classes, birthday party bookings or hosting a private event/fundraiser, please don't hesitate to call!

In Creativity,
Becky :)


Creative Haven YXE


306.880.4888



Find us on Facebook
Find us on Instagram